About Paul Claireaux
Master your money and free up your life
Click To Tweet
The video above is the best way to learn about this site – but in a nutshell:
You're in the right place if you're looking for ideas to
. . . to 'Achieve more' of the things that matter to you 🙂
But look, you don't want to hear me 'blathering' on and blowing my own trumpet.
Here's what others say about this site and my books:
Moira O'Neil is an award winning personal finance Journalist.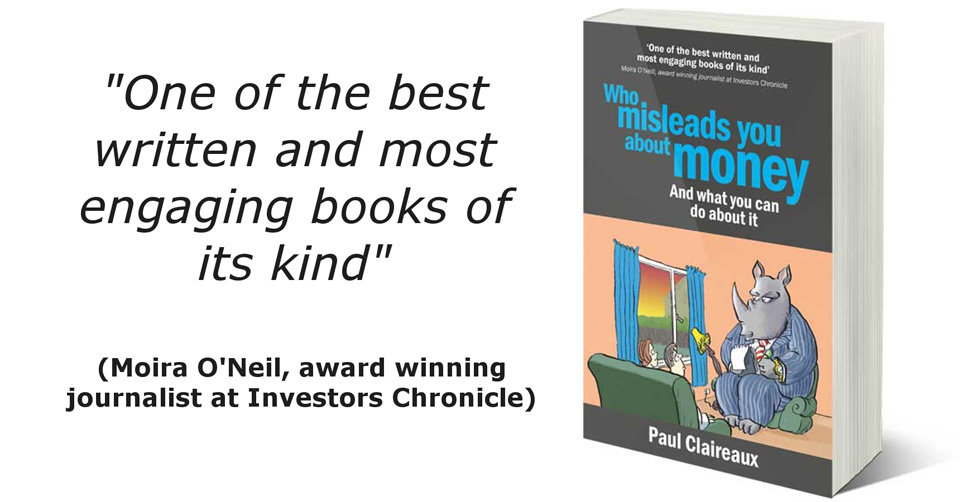 Jason Butler is a leading light in the UK financial financial planning scene – and regular columnist for the Financial Times
And Dr George Cooper is the acclaimed author of 'The origins of financial crises' and you can see his assessment of my work here
 Testimonial by Dr George Cooper 
So what can I help you with?
Well, my aim is to help you to MASTER your money and FREE up your life.
So, this is about education – pure and simple.
There are NO adverts for financial products here – I do NOT sell those things – so you can relax about that.
I simply take out the mysteries around money and take on the people who mislead you about it – like scammers and con artists.
And those people who sell expensive or stupidly risky investments.
(And a few misinformed and misleading writers in the Press and Blogs too!)
Here (over time) you can learn the truth about your money and how to:
• Connect your money to what matters in your life
• Rate any investment that anyone puts to you before you jump into it and
• Plan your own Financial Freedom in 5 simple steps.
Financial life planning is about taking your own ideas – for the life that you want – and using a solid process to get yourself on track.
And that's what you'll find here from someone who's qualified and capable AND who genuinely wants to help.
Who is Paul Claireaux?
I'm an author, educator and a consumer champion of the personal finance world.
And I'm on a mission to turn our ideas about money management upside down.
Unlike many writers in this area, I've qualified with a diploma in financial planning.
I also have 25 years' experience on the inside of the financial services industry (I headed up investment product developments for a leading provider)
So, you could say I'm more than qualified to be a financial adviser but I choose NOT to sell financial products. And here's why . . .
Financial products are the last thing you need to plan out your financial life.
What you need first is education and ideas to better understand your money and take control of it.
You also need ideas to protect your wealth from those who want to steal it or expose it to crazy risks.
And I'll help you with all of that.
I'll also tell you about the important science around our natural but irrational human behaviours (the 'enemies inside our heads' if you like)
Because it's these behaviours that quite often lead to our biggest money mistakes.
My first book, Who Can You Trust About Money? was described as "One of the best-written and most engaging books of its kind" by Moira O'Neill, award winning journalist and personal finance editor of Investors Chronicle.
In live workshops – I teach a powerful process for connecting your money – to what matters in your life.
And I'm developing an online course for this too.
On the personal front – I'm a father to three adult boys (Harry, George and Ed) who inspired me to start writing and focus my efforts on helping younger people (aged 25 to 50!) to make better choices about money.
Academically, I studied electrical engineering (briefly!) at Loughborough University.
And I guess some 'interesting' facts about me are that . . .
I used to fly aeroplanes for a hobby and held a private pilot's licence for 25 years.
And I've had surgery to replace collapsed discs in my neck with titanium joints.
So, if I talk to you with my head tilted to one side it does not necessarily mean I don't believe what you're saying!
Hope that's useful background
All the best for now
Paul
And take good care out there
Paul
For more ideas on money and life
Join my Facebook group here
Or sign up for my newsletter
With which you can also have my '5 Steps for planning your Financial Freedom'
and the first chapter of my book, 'Who misleads you about money?'
All free of course 🙂