Educational Content
This page is for you if you're a leader in Financial Services (offering advice, products or fund management) and want your business to become (or build your position as) a go-to place for Insights on Money.
Consumer-facing financial education:
Here I'll outline:
The benefits of putting education at the heart of your business.
How to establish yourself as a 'go-to' place.
The ways I could help you to develop your programme.
The process I use to minimise your workload.
How (and how much) I charge for my time.
Interesting?
If you'd like to explore these ideas further, book an hour in my diary here.
The benefits of educational content
Think of your educational content as a bridge that closes the knowledge gap between you and your clients/prospects.
It's also the key to your valuable ideas – for your audiences – and brings them closer to you.
As Bill Gates said back in 1996,
Content is King, it's where I expect the real money to be made on the internet.
I agree and focus on creating content that helps FS firms grow their businesses.
But great educational programmes don't just do that: they boost your reputation and reduce costs and risks in your business too; here's how.
One programme, 15 benefits to your business
A great (consumer-facing) education programme:
Displays the depth and value of your Insights and your services.
Enables you to expose misleading information published elsewhere.
Equips your team with robust and consistent answers to money questions, reducing business risk.
Attracts more new clients to your services.
Strengthens existing client relationships with reminders of your value.
Saves you time and money by filtering out unsuitable enquiries.
Prepares your clients for meetings which means they get more value from their time with you.
Builds your readers' trust in you. So, more become clients, faster.
Is reusable in your training, saving you money in creating that content.
Makes training more fun because this explores client understanding.
Makes it easier to retain and recruit the best people – because talented people love to learn.
Makes your videos (if you choose to create them) more engaging  – and less costly to produce.
Makes it easy for other professionals to refer clients to you.
Can help you enhance and shorten your client reports.
Is an asset that increases the value of your business.

But

only if you're assigned the 'IP'; watch out for that.
For a slide deck that expands these points, e-mail me at hello@paulclaireaux.com with the heading 'One Programme, 15 benefits'.
How can you get your messages to cut through?
Of course, there are millions of articles and videos online, and more than 4 million are added each day!
How can you possibly compete with all that?
In one sense, it's easy because your clients know they can't trust much of what's written about money. And we know most of it is misleading – including a lot in the Money Sections too.
So, the solution is to establish your firm (or enhance your position) as a trustworthy place for Insights around money.
Your clients and prospects (and their friends and family) want to be confident that your business tells the truth and the whole truth about money.
First and foremost, people want to be educated and informed on the money challenges they face.
They want to know how to approach those challenges, what they can do for themselves and where they might need professional help.
So, please give your audience these Insights, and protect them from all that misleading nonsense out there!
The solution is as simple as ABC
There is a lot of compelling content online, but how much of that is Accurate and Balanced?
And how many Accurate and Balanced articles are Compelling to read?
I rest my case!
Being Accurate and Balanced shows you're different to others out there.
However, your content must also be Compelling if you want people to consume it, and it's a waste of time and money to create anything else.
Is your audience (really) different?
Please don't make the mistake of thinking that plain language dumbs down your content and insults intelligent readers.
Professional people are not impressed by long sentences and showy vocabulary.
Yes, they want to know the content is right – but they prefer plain language to unnecessary complexity.
Evidence on this from Nielsen here
And even the Government understands this now!
Why hard work is good news!
So, there are many business benefits of offering educational content, and the ABC test is simple enough.
The hard work comes in designing and developing your programme.
It's like getting into good physical shape; we all have a rough idea of what to do, but many of us struggle to find the time, motivation or expert help to do it well.
And, as you'll know if you've tried, creating fascinating content is very hard work!
However, this is good news as it means few firms offer solid and interesting answers to real money questions.
Just be aware, as with most creative endeavours, only a small number of players win the prizes.
I see lots of firms have a go at educational content, and then give up – overwhelmed by the scale of the work, and I get that day-to-day business is a higher priority.
But if you want an educational programme, you must either commit the time to write the content (and oversee video productions if you go for those) or find someone to help with this work.
Can I help?
Possibly, and I'm certainly happy to talk with any FS firm leader who wants to create a great programme.
So, if this interests you, grab an hour in my diary to chat – I don't charge for that!
I'm told I make dull money stuff interesting and help good FS firms become go-to places for answers – to key money questions.
In short, I help firms design programs that bring the answers to life.
I don't undertake one-off writing tasks, but I do help my clients in various ways.
Review and define your program's audience. And this could be bigger than that for your core services if you want to help others with financial wellbeing.
Develop your program's name – and strapline – if you need one.
Decide on the content categories you want to cover.
Develop specific ideas for Insights – and a logical sequence for producing them ** 
Draft specific Insight outlines for you to consider. (and I have more than 100 of these we can rework and repurpose!)
Develop high-impact Insight titles and images  – which are vital for engagement.
Write (presenter-ready) scripts and/or slide decks for articles or videos.
Storyboard ideas for animated videos.
Develop message/image sets for Social Media and newsletters – essential for attracting your audiences' attention.
Oversee video editing and finishing.
Find a good videographer or animator if you need one.
Review, restructure, condense and polish your existing content.
** If you don't plan this program well, you could spend years on it and end up with hundreds of random articles or videos  – on topics we could cover in 20 or 30 Insights.
Do you have a content creation process?
I'm told that some writers and marketing consultants have opaque creative processes.
So, here's an outline of mine, I hope it's clear.
Step 1 – Dream up and develop your ideas
Capture and log your ideas; your own, those of your colleagues, from things you read and from those I supply for you.
Categorize and prioritize what matters most to your audience and outline your program.
I can supply you with a table to help you prioritize these Insights by the factors that matter to you and your business.
Step 2 – Define and write your brief.
There's quite a lot to this task – and if we worked together I could provide you with a template and some proven ideas.
Some key jobs here are to define:
Your aims for your program
Your primary audience(s)
Your channels for reaching them
Your written or spoken style
The size of articles or length of videos you want.
The formats for those different types of content.
The default Call to Action on these insights.
Step 3 – Outline the key messages in each Insight
To avoid rewrites or re-makes of videos, research and propose the key messages for each Insight.
Then ask others (esp. non-experts) for feedback and refine the work.
Step 4 – Complete the research and write the Insight
Write the Insight, add images to bring it to life, review it yourself and get others to review it.
And refine the text and images in that Insight- perhaps five to ten times!
Step 5 – Publish and Promote
Finish the text, get it copy-edited, and produce it as a video or create an 'intro' video.
Load everything to your site and promote it to the world.
And if it's a long piece (like this one) use a clever App like MissingLettr to create a whole campaign (multiple posts) from each of your Insights.
The key thing about these projects is to give your content creator direct access to your financial planning decision-makers.
A productive content creation process requires fast and final decisions on the initial ideas and on the written Insights.
Late changes to written (and especially video) content are common and costly in poorly run projects.
Do you really need any help?
You do not need my writing help if you:
Enjoy writing content and creating videos
Have the skills to create high-quality (ABC) content.
Can find long periods of uninterrupted time for this creative work.
Can allocate enough blocks of that quiet, quality time – over many months – to build your library of content at the pace you want.
Can create this content at a similar or lower cost (at your usual time-charged rates) than you'd pay me, or
Can find someone else with the skills to create this ABC content for you.
Just be aware, that there aren't many qualified and proven writers of financial education content, and the demand for our time is rising fast.
If you have another writer or plan to create this content yourself, you might still need some help in the areas listed above or to:
Develop a starter programme of unique and compelling ideas.
Get your content production line running.
Write a well-formed standard brief for your insights, to follow yourself or to guide your writer on the approach to take on these works.
Or perhaps you want a second opinion on your current or planned works?
Either way, if you'd like some content consultancy support we can talk about that.
I'm flexible about how I help my clients achieve their goals.
How do I charge for my work?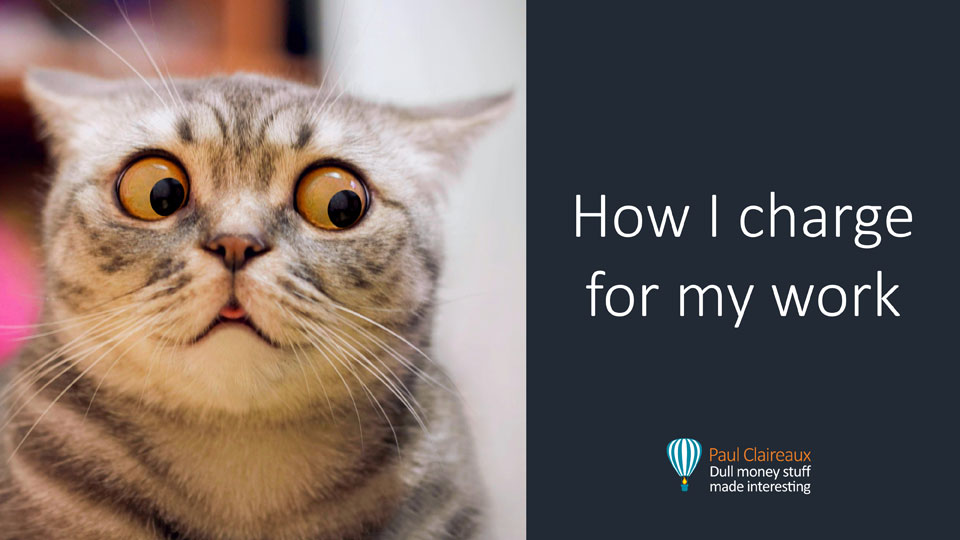 Good question, and I'm keen to talk about this because you need to get this right.
So, in this section, I'll outline seven points to check about fees – whoever you use to help you with content creation.
Get clear on these points upfront, and you'll avoid nasty surprises down the line.
1. Pay for time, not padding
A good writer takes a less is more approach.
For example, and I hope you'll forgive me for any offence I might cause by what I'm about to say, but in a good many circumstances, you're unlikely to be best served by meandering and waffly long sentences with irrelevant diversions.
No one wants to read sentences like that!
You must nail your messages, concisely.
Of course, it's not all about short sentences and short words. It's also about engaging people's emotions, and at times, you'll want to: fascinate, move, excite, reassure, inspire, amuse, challenge, inform and surprise your audience.
A good writer will also unpack and expand on ideas with stories – to help you engage your tribe.
So, I charge for my time to create valuable content that helps you achieve those things.
I do not charge for adding words, and very few good writers do; they know you don't want waffly content in your business.
That said, if it helps, I can provide fee estimates (and price caps) on larger pieces of work, after we've agreed on a brief. And my fees will come in below those caps.
2. Enjoy some of my most valuable time for FREE!
I provide a log of tasks done/time spent, with each monthly invoice – and charge for my time by the minute, not by the day.
So, I stop your clock when I stop working on your task.
This means if it takes me one hour, that's what I charge – not half a day's fee!
You're also not charged for the (approx) 25% of my time (over the time I charge for) to develop ideas for you – while I'm in the shower or on a coffee break, or on my daily walk…
and those are the times when I often get the best ideas!
3. Fees reduced by 20% for ongoing contracts
My standard hourly rate is the same as an average financial adviser (Source: Money Helper).
And, I reduce my fees by 20% on typical contracts  – for ongoing work of seven or more hours per month,
So, accounting for the free time I spend developing ideas, my fees equate to around 40% less than an average adviser – and I'm told that's great value.
4. You save money on design and videography
If you want your Insights converted to videos you'll have production costs for that.
However, there are plenty of low-cost ways to produce high-quality videos these days. And, we can explore those if you like, or I can introduce you to high-quality, fair-priced designers and videographers or animators.
Either way, you will not need two versions of the Insights I write for you.
I normally write in a conversational style, so my Insights are teleprompter ready for your presenter (or voice-over artist) to bring to life.
I can also supply high-quality images, like those on this page, at no cost additional cost – to use in the works I write for you – in articles, printable guides or videos.
And I can create charts (in your colours with your logo) to make tricky money concepts easy to understand.
Here are two examples: One on workplace pensions – and one on medium-term savings.
5. You pay less for work that's easy for me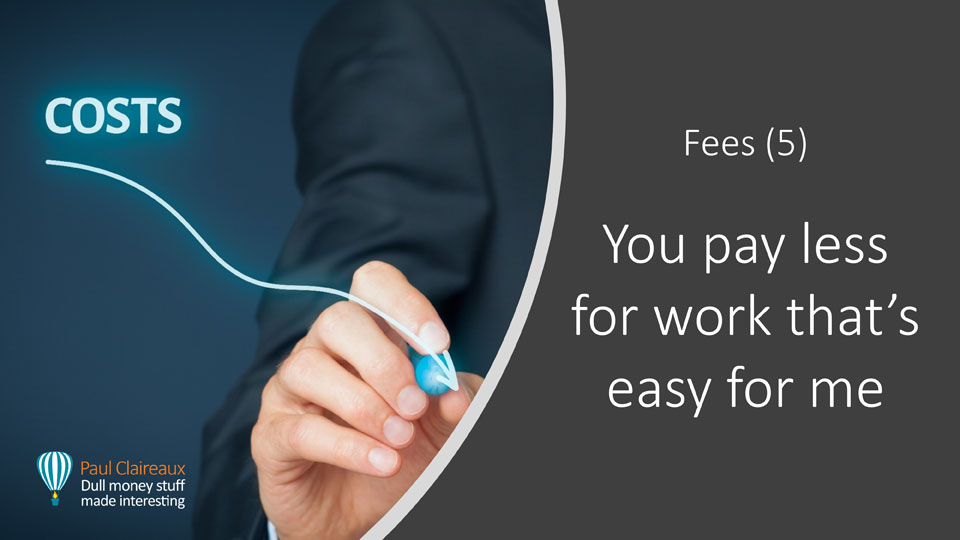 Because you pay for my time you spend less on projects that are easy for me to write.
And as I can draw upon my library of more than 100 existing money Insights (plus an acclaimed book on financial planning and behavioural Insights), it often takes me less time than other writers to research and create the ABC content you need.
6. Avoid the stress of writing or re-writing this content yourself
Working with average or poor writers is a killer for many FS firms, and I know the stress it can cause.
As a Product Development Manager at Clerical Medical, I'd often find myself re-writing product brochures or other content from our 'agency' on my weekends – because I wanted the job done ABC right.
So, whoever you choose to work with, be sure they have the process, experience, knowledge and skills to design and draft your content – and get it right – the first time.
Unless you're writing this yourself, you'll want to minimise your involvement and minimise the risk of costly changes down the line – after the content has been published or the video produced.
Everything starts with programme design and the messages you want to share in each Insight.
The rest is, relatively, easy after that.
So, it's essential to write a brief for these works – and I can draft that for you too – to make this easy.
I'm open to challenges, to improve the works I create, but I do my best to get things right the first time – and seldom receive such requests.
So, I invariably sign off the content at the first or second pass.
7 Avoid those chunky project start-up fees. 
Finally, in terms of value for money and fees, you'll be pleased to hear that I do not charge any percentage-of-project fee to start work.
Nor do I charge any exit fees if you decide to stop our work, for any reason.
I do not believe in tie-ins.
I do, however, charge a £600 monthly retainer fee – which is deducted from each monthly invoice.
Any unused balance is returned to you when our work ends  – and all my clients are happy with this arrangement.
Are we a good match?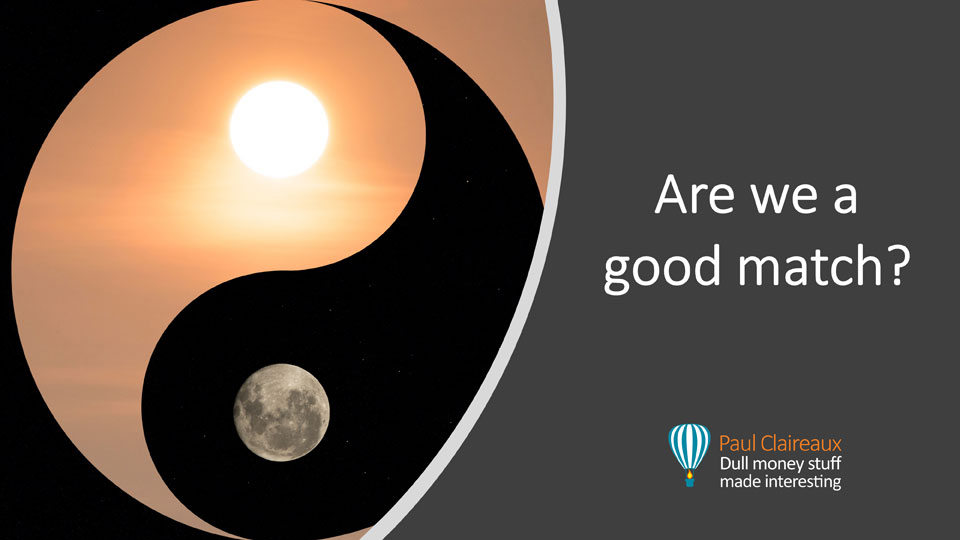 This is impossible to say until we've met – on a video call at least, but there are two things worth mentioning here.
First, I assume you're open to challenges and ideas for improving the way content is created in your business and/or reducing the cost of production.
If the answer is 'no' we're not a good match. I prefer to be challenged and challenge my clients, so we both achieve more.
Second, I'm aware that not every FS firm leader agrees with my view that extreme market valuations matter to Investment Advice, but this difference (if it exists) won't affect our work.
I completely understand the challenge of building that question into a financial planning process which is why most firms don't.
I'm sure we agree that the crucial issues for portfolio selection are need, attitude and capacity for investment risk/loss.
Likewise, it doesn't matter to me whether you recommend passive or active or both fund types.
What matters to our work is that I understand your propositions and advice processes and can articulate them as you'd wish.
My work is about helping good FS firms become go-to places for consumers to find answers to the big questions around financial planning.
And I'm confident we'll agree on most of those – because we've both passed the core exams.
Any other questions
You may have many more questions about how we might work together, but I hope this page has piqued your interest in developing a new (or renewing or extending an existing) educational program.
If so, let's have a chat, there's no risk in that, and I suspect we'll both gain from it.
And thanks for dropping in, 
Paul