Please note:
This page gives you an outline of my kind of coaching
If you're unfamiliar with coaching and the value of it – start here
Look at this picture – the bit on the right
It's an example of the sort of picture I get my clients to draw up . . .
. . . and it shows their big financial life goals – spread out over time.
Actually, these were my goals when I was younger 🙂
And, you know, for most people, this simple exercise reveals something very important.
It reveals the things that matter to them. 
The things that they really want (to have, be or do) for their own lives . . .
. . . or for someone they care about.
And it quite often reveals the risk of those goals not getting done.
So, this image alone can be enough to get us started on the important work of making a financial life plan.
That's a plan that connects your money – to your important life goals
Now, imagine that you've drawn up your own picture – like this.
Can you take it to the next stage?
Do you know how to choose the right 'types' of money box – for saving or investing your money . . .
. . . money boxes and funds that will be right for your unique personal circumstances?
Do you know how to estimate how much to save into these boxes . . . 
. . . to stand a good chance of achieving your important life goals?
And do you have a super easy way to work out those numbers . . .
 . . . so you don't have to pay through the nose for some 'adviser' to it for you?
If you're answering 'no' to those questions – then I might be able to help.
Of course, whilst most of the ideas you'll find on this site are FREE.
Personal or Private group coaching is not – but it's really not expensive either – so check out my prices here.
Will you help me with my research?
Would you mind answering one simple question?
It's really very simple. 
You only have to move the slider – in the widget below – to the statement you agree with.
And don't worry – this is an anonymous test 🙂 
Then, when you've answered the question – you'll see how others answered it too . . .
. . . and that's really quite interesting.
Quiz Maker – powered by Riddle
Why such a simple question?
Well, for the vast majority of people I meet, "money" is a bit of a scary subject.
A lot of people are easily bamboozled – and rightly put off by all the jargon.
But this ONE question – in that 'widget' above – is what gets them engaged in their financial life plans.
So, if you've not done so already. . .
. . . go on, put in your answer.
Of course, you don't have to work with 'me'  – to work this stuff out.
. . . although I am one of the best financial coaches there is 🙂
The essential thing for you is to learn from someone competent . . .
. . . to build your knowledge and skills

. . . and to take more control of your money

(and your adviser – if you use one) 
So, do you need a financial adviser?
Well maybe, maybe not.
It really depends on what you're trying to achieve.
And, sadly, some of those people are not as smart as they claim to be . . .
Or as smart as they should be either !
And far too many of them charge too much!
(I know – I wrote the book on it!) 

But if you do need a financial adviser – and you might do, at some point – then you need to know how to find a good one . . .
. . . one who's competent and good value too.
And I can help you work that out  – if and when you need to.
Now, what else you do you want to know?
Well, apart from the pricing – not very much.

The truth is this, longer term, financial life planning malarkey – can be a LOT easier than some people will tell you.
You can download my brochure if you like (just hit the button below)
I'll then send you updates and Ideas around money matters.
And if you do download the brochure . . .
. . . print off and complete the 10 simple questions on the back page.
They'll help you assess 'where you are' (on money matters) right now.
And that'll help you see where to focus your learning for the future.
Okay let's Go 
Now, I've also listed some benefits of coaching below.
But this only scratches the surface.
It's not 'bespoke' to your personal situation.
So, if you have any questions on how I might help you –  just contact me here
And, whatever you do – sign up to that newsletter 🙂
I send all my best ideas out from there  – straight to your inbox. 
Don't worry – we won't 'spam' you.
And I think you've love the newsletter.
A leading financial planner  -and writer for the financial times – says it's one of the best newsletters there is!
What's more, once you sign up, I'll send you an outline of my 5 step process for planning your financial life . . .
. . . and a chapter of my acclaimed book, 'Who misleads you about money?' – as a thank you 🙂
All the best for now
And take good care out there.
Paul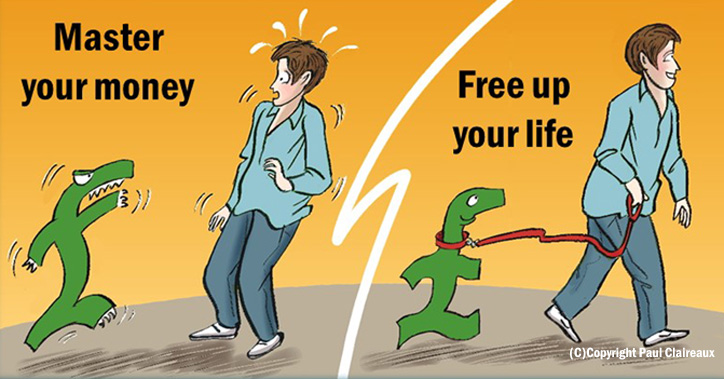 Get the Newsletter and FREE book Chapter