Hey there – and thanks for calling in to 'check out' my coaching and education services.
Or to find out a bit more about what I could help you with – read on
This picture is a good place to start.
It's similar to the pictures I get my clients to draw up – to show their own financial life goals.
And for most of my clients this exercise will reveal something important  – about what they want for their life – or for someone they care about – but which is at risk of not getting done.
So, that in itself can be a valuable trigger for action – and then our work to connects their money – to their life – is a bonus!
(Yes, of course, I also teach my clients how to work out their financial numbers – about what they need to save for their goals as well . . . 
. . . but we're not going to get into that right now 🙂
Now, having looked at that "money-life map" – would you mind answering this question to help me with my research?
It's really very simple  – and you only have to move the slider to the show the situation that most closely describes yours.
Don't worry – this is an anonymous test 🙂
And, once you've answered the question – you'll be able to see how others answered it too – and that's quite interesting.
Quiz Maker – powered by Riddle
Why such a simple question?
Well, for the vast majority of people I meet, "money" can be a bit of a scary subject.
And a lot are easily bamboozled – and rightly put off by all the jargon.
But this ONE question – in that 'widget' above – is what gets them engaged in their financial life plans.
So, if you've not done so already – go on, put in your answer.
Of course, it doesn't matter enormously whether you work with me – or another, great 🙂 , financial life coach – the ESSENTIAL thing is to . . .
. . . build your knowledge and skills

to take more control of your money

(and your adviser – if you use one) 
Sadly, those people are not all as smart as they claim to be – or SHOULD be . . . and too many charge too much!  (I know – I wrote the book on it!) 
What else you do you want to know?
Well, apart from the pricing – not very much.
The truth is this, longer term, financial life planning malarkey – can be a LOT easier than some people will tell you.
You can download my brochure  if you like (just hit the button below)  – and I'll add you to my newsletter list – for updates and Ideas around money matters.
And if you do download it – be sure to print off and complete the 10 simple questions on the back page.  
They'll help you assess 'where you are' (around money matters) right now – and help you see where to focus your attention.
Okay let's Go 
I've also listed some benefits of coaching below.
But this only scratches the surface – and can't be 'bespoke' to your personal situation.
So, if you have any questions on how I might help you personally –  just contact me here
And, whatever you do – sign up to that newsletter.
I send all my best ideas – out from there – and you can get them straight to your inbox. 
(Don't worry – we won't 'spam' you – and I think you've love the newsletter)
If you do subscribe, I'll also send you an outline of my 5 step process for planning your financial life – and a chapter of my acclaimed book, 'Who misleads you about money?' – as a thank you 🙂
All the best for now  – and take good care out there.
Paul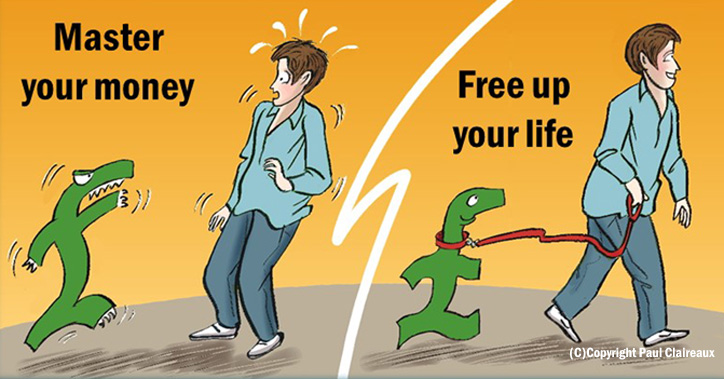 Get the Newsletter and FREE book Chapter