Why you need balanced views when investing
and where you can find more of those
In this Insight, I'll talk about where you might find more balanced views when investing your money in stock markets.
The above video covers a lot of what's in this Insight. So, if you prefer that format, watch that.
Images in the video used under a Creative Commons License listed with attributions here

Were stock markets overpriced before Covid-19?
If you worry that stock markets were overpriced before the Covid crisis… and that they could fall a long way from their highs, you're not alone.
Various experts warned that markets had become overheated in recent years.
Here are just two examples:
The first from Deutsche Bank in late 2017
And the second from Goldman Sachs in 2018
And, if it turns out that we are coming out of yet another, classic stock market bubble, the questions you might ask are these:
Or
The short answer, of course, is that nobody knows, and these conceptual charts have their limits in terms of scale!
Some might argue that the past 10 years have been the big bull trap which has followed on from the almighty bubble at the end of the last Millenium!
Experts can't agree
I've written before, at length, about the different views held by two Nobel prize-winning economists on what drives market prices but while that's interesting at an academic level here's what it really means for YOU.
The advice you'll get around Investment Risk, can differ between wealth managers depending on which of those different academic schools of thought they prefer!
One group will tell you that stock market bubbles don't exist; that you can rely on the crowd of investors to make rational choices (on average) to ensure stock market prices are always right for good prospective returns, whenever you invest.
And, if you'll forgive my humour…
In extreme cases, these people are like attendants at outdoor swimming pools with serious water heating system problems.

They might know that on some days the water is freezing while on others it's scolding hot…

but you'll be told to 'jump in – and that the water is lovely' whenever you turn up!
The other group of wealth managers will explain, with psychology, why market prices are probably not right, a lot of the time.
This group look to the evidence, over hundreds of years, to see how herds of excited investors have indeed inflated price bubbles… and burst them too when their mood changes.
Those in this group might point you to something like this, widely acknowledged, Shiller CAPE, valuation on the world's largest stock market (in the USA) which was at a very high level, in historical terms, just before the Coronavirus lockdowns triggered a fall.
Where to find 'valuation' based views?
So, this brings us back to the question of where to find more balanced views of the risks in stock markets now. And, as we've seen, whilst a good wealth manager will provide you with that, some tend to ignore even extreme variations in market valuations – to focus only on the optimistic side of the story.
So, for balance, you might want to hear from experts who'll give you the other side too.
And such people would include:
1. The guys at GMO with their regularly updated 7-year forecasts.
2. John Hussman – with his margin adjusted CAPE indicator.
3. The economist, Mohamed El-Erian – a great guy to follow on Twitter
4. The fund manager Sebastian Lyon at Troy funds here in the UK.
These people have a track record of giving unvarnished, 'warts n all', views on the outlook for stock markets.
Bear in mind, this is only a starter list and feel free to comment below and tell me about your own favourite expert for reminders of the downside, as well as the upside potential, in markets.
We really do need to hear these views, to balance out the excessively optimistic noises we're hearing at the moment, right?
And no, these are not fortune tellers
To be clear… I'm not saying these experts can predict the future direction of markets.
No one's got a crystal ball, so no one can do that
The point about listening to these 'other' experts is that they won't try to palm you off with simple, 'Don't worry be happy' stories – about markets always going up over the medium term.
The simple truth is… stockmarkets (even the biggest) do NOT always do that.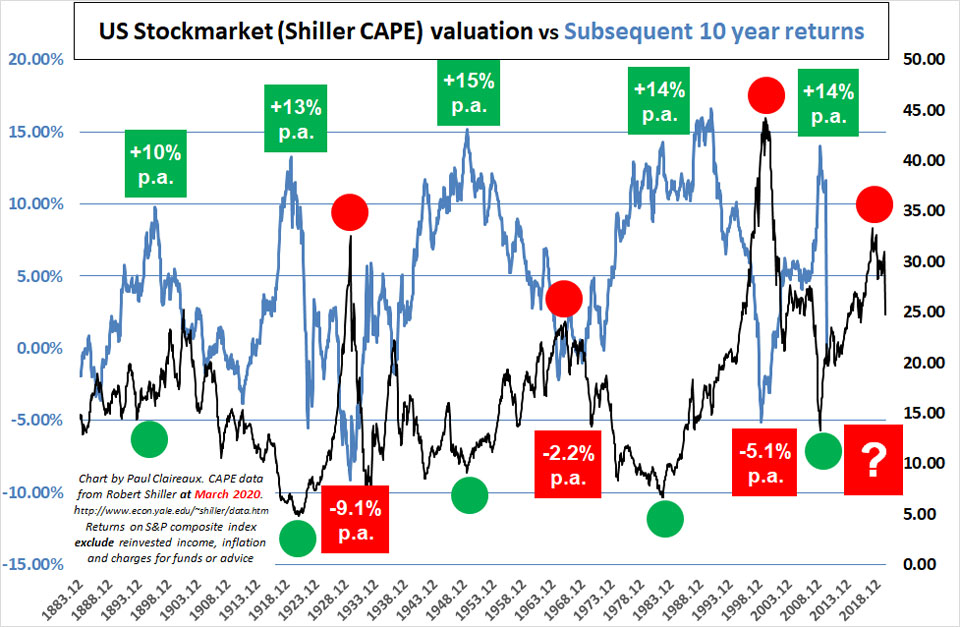 OK, but why would I suggest you listen to others?
Well, my work is about financial education.
That means helping you to fully understand the potential risks as well as the benefits of any financial decision you make.
And you won't get that balance in a Social Media Echo chamber full of people 'liking' each other's views… or in a Social Media flame war where people hurl personal insults to anyone who disagrees with their point of view – rather than debating the real issues.
Neither will help your understanding of the facts – and the uncertainties around investing.
So, on matters as important and uncertain as the returns on your investments, it's essential to get balanced views, right? And I'll always aim to provide you with those.
My mission is to provide you with the truth about money … and that includes exposing those who mislead you about it too.
I wrote the book on that!
And if that sounds interesting – you can download the first chapter for FREE when you sign up to my, very occasional, Newsletter.
The truth about stock market prices – in three parts
When it comes to the stock market, the truth comes in three parts.
First, it's true to say that the past performance of investments is no guide to the future.
Second, it's true that, over the long term, stock market investing has mostly delivered positive returns above inflation.
And third, just remember that, over most short terms, after valuation highs, stock markets have fallen hard… and, sadly, it's during the periods of extremely high valuations, that most people invest.
The evidence is quite clear on that.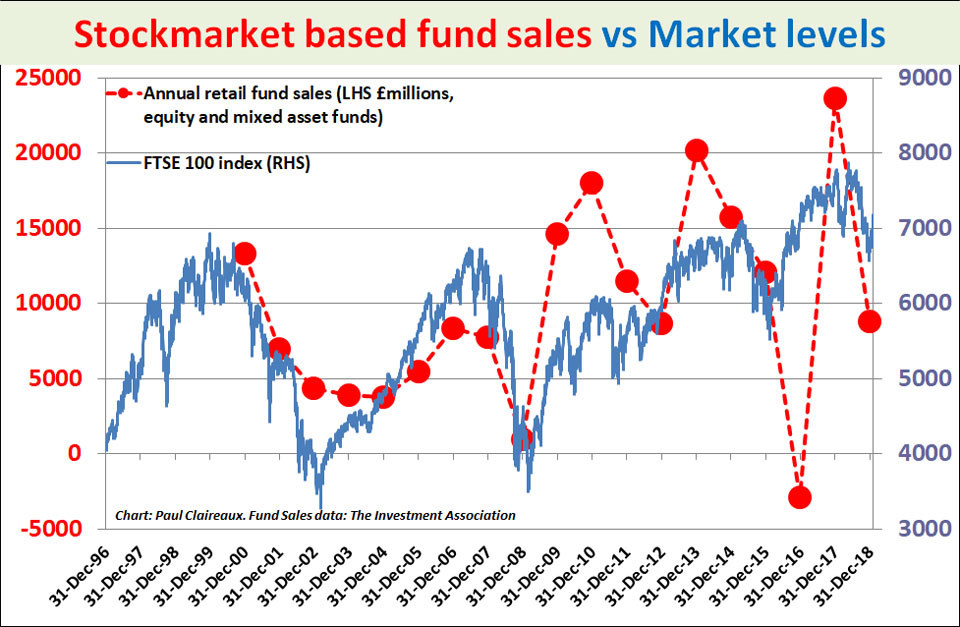 So, if you're an investor, or you're thinking of investing, take note of my four-step process to assess the right amount of investment risk for you – on each of your financial life goals.
Be sure to follow all four steps, and if you have an adviser, make sure they do too. Sadly not all of them do.
Do you like seeing both sides of an argument?
OK, so that's about it from me, on this issue, for now.
Just to say, if you like the idea of seeing both sides of the argument on the big questions around money, from someone who's focused on education rather than selling financial services, please follow along.
All you'll ever find here are solid ideas…
Ideas to help you take more control of your money… and your adviser if you have one.

And Ideas to help you earn more money too – if you need to.

Thanks for dropping in
Paul
For more ideas to achieve more in your life and make more of your money, sign up to my newsletter
As a thank you, I'll send you my '5 Steps for planning your Financial Freedom' and the first chapter of my book, 'Who misleads you about money?'
Also, for more frequent ideas – and more interaction – you can join my Facebook group here
Share your comments here
You can comment as a guest (just tick that box) or log in with your social media or DISQUS account.