Why I get IRATE
and why you might want to, too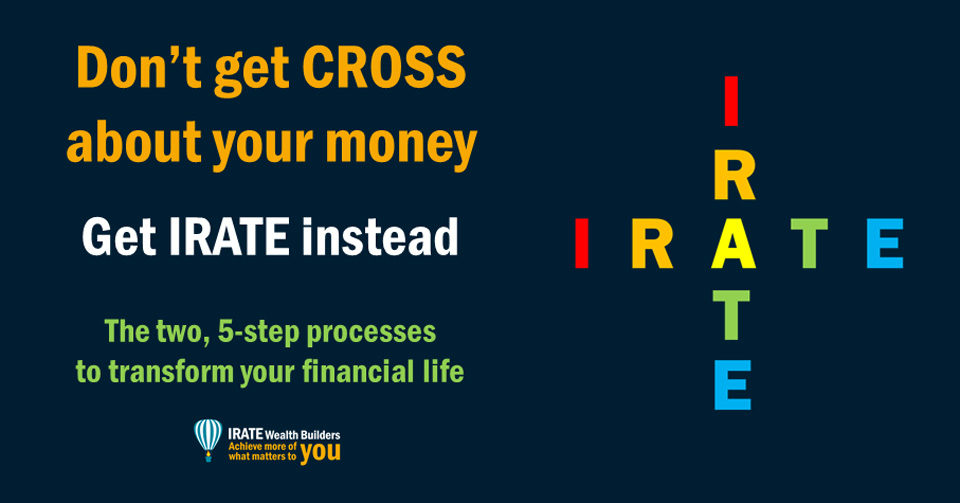 So, why do I get IRATE and why might you want to too?
Well, in a nutshell, because once you've got IRATE, you'll know how to plan your financial life and help your loved ones do the same.
Yes, I'm serious, this simple 5 letter word could become one of the most valuable words you use – because the ideas it will help you remember – will serve you for the rest of your life.
No matter what happens in markets in fashion or technology – and long after I'm gone – you'll still be able to rely on these ideas to guide you towards better decisions.
So, these are truly evergreen ideas.
Don't believe me?
Well, take a look at how I use this (registered trademark) word in 4 different ways.
I think you'll be interested in at least 3 of these.
And don't worry  – I'm not about to try to sell you any financial products. That's NOT what I do. This is about education pure and simple.
IRATE V1
– The proven process for planning your money
I'm a big fan of using powerful and proven processes to guide me around any complex problem that I'm trying to solve.
And this first 'IRATE' process is one I've developed  to help you to plan out your own financial freedom.
Now, as I hold the diploma in financial planning from the personal finance society, I can tell you that this process is perfectly aligned to their traditional planning models.
However, it's a lot easier to remember when you're doing this work yourself.
Here's a simple overview
IRATE V2 – The proven process for 'rating' any investment
This second IRATE process that I use and teach – works in tandem with the first.
So, when you get to the 'adjust your plan' stage in the first process, you need another process for working out what precisely you're going to adjust – to get your financial plan on track.
And this second IRATE process helps you do exactly that – by helping you assess (or 'RATE' 😉) any investments that you have OR that you're thinking of buying.
Indeed, it'll help you RATE any investment that anyone could put to . . . ever!
. . . and before you jump into them.
Now, this second IRATE process covers quite a few concepts and there's no room to go into the detail of it here.
But I do teach the detail of this – and the first process – to my coaching clients and to anyone who attends my one day workshops.
So, if this learning is of interest to you – check out the details and prices of my services here
The thing is that simply by learning these two IRATE processes, you will be equipped to make much better decisions about your money.
And on some KEY concepts – you'll even know more than some financial advisers too!
So, you'll be able to spot poor quality and expensive advice – before you get caught out by it. And you'll know how to find smart and fair value advice too.
The difference between these types of advice – can be enormous – as you can see here.
Of course, learning to 'get IRATE' will also teach you how to protect yourself from the scammers on the dark side of financial advice.
And sadly, there are still far too many of those people out there.
So, once you've learned these two (quite simple) processes,

you should NEVER get caught by anyone out to mislead you about money.
What's more, you'll know how to guide your friends and family on some of the really big money issues too.
In short then, these two IRATE processes alone are worth their weight in gold!
But there's more to this than two neat processes for planning your money – and 'rating' investment ideas.
IRATE V3 – The secrets of sales and marketing
I also use the word IRATE to help people remember the 5 essentials of great sales and marketing.
This brand NEW workshop is designed specifically for professionals and entrepreneurs.
And, for fun (and because it works) I've also fitted these sales and marketing secretes into my IRATE acronym.
What's more, I'm confident that if you use these skills, you'll see a massive increase in sales.
And you'll get those results with a lot less stress and effort too.
The workshop is based upon my proven track record in B2B sales and in product development and marketing.
So, I can assure you that these methods work – and are easy to follow. 
More about me here and a feature article here 
Please note:
This is a brand NEW course and there's currently no sales page for it on this website.
So, if this is of interest to you (for yourself or a group of friends or a team that you employ) . . .
. . . just contact me here and I'll prepare a quotation for you.
IRATE V4
– an outline of my business values
And finally, I've used the word IRATE to outline (and help others remember) my core business values.
And these are to provide my customers with:
(I) Inspirational, Innovative and Intelligent Ideas
(R) Rewarding Results.
(A) an Approachable service
(T) a Trustworthy service
(E) The Effort, Expertise and Experience they need to achieve more of what matters to them – in their business or personal life.
Learn everything I know – just by 'getting' IRATE'
In fact I'm so keen on the word IRATE that I've made it a a registered trademark of my new educational and coaching business, IRATE Investment Ltd.
Please note, I do not sell Investment products but I do teach people how to 'RATE' these things for themselves.
In summary then, IRATE may sound like a curious word to use for a business but just remember this . . .
We all get angry about our money challenges from time to time. . .

. . . but it's lot more fun (and profitable) when you 'get' IRATE 😉
Want to 'get' more IRATE?
Or perhaps you'd like me to help your team at your business to do so?
Either way – you can contact me here.
You can also download an outline of the first IRATE (financial freedom planning) process – below.
It's FREE to everyone who signs up to my newsletter – which some people tell me is 'quite good' 😊
And, if you sign up today, you'll also get a free chapter of my acclaimed book, 'Who misleads you about money?' 
Just click on the second link below – and it's all yours.
All the best for now and please take care out there.
Paul
Get more ideas for building and protecting your wealth
Learn about my Facebook group here
Sign up for my newsletter
For occasional updates and some free downloads including:
My '5 IRATE Steps for planning your Financial Freedom'
and the first chapter of my book, 'Who misleads you about money?'
All free of course 🙂