Why financial education is the way
To delight your customers
I hope this Insight, on Financial Education, is of interest to a very wide audience.
However, it's written primarily for employers and particularly for leaders of financial service providers who'd like to 'up their game' in this critically important area.
How proper education transforms our lives
Perhaps we all know that education has been the key to human progress for the last thousand years.
As Isaac Newton said, his work (which allowed us to put a man on the moon!) was simply about building on the works of others; which has only been possible with the publication of books and the education that allows us to interpret them.
With those things we've made massive strides (in the fields of engineering, science and medicine) that have completely transformed the lives of billions for the better.
This is not to say that we don't have some massive challenges ahead, on issues of global warming / clean energy production … and plastics pollution for example. We absolutely do.
But I'm confident that if we back our scientists and engineers we'll crack those problems soon … and it's worth reminding ourselves of how we've progressed in key areas of human wellbeing in just the past two hundred years.
It's a more motivating picture than folk ranting about Brexit – don't you think? What's more, it's all come about because of outstanding education.
The crisis in financial education
Our achievements in financial education have been outstanding too … outstandingly bad. The picture here is one of complete and utter failure.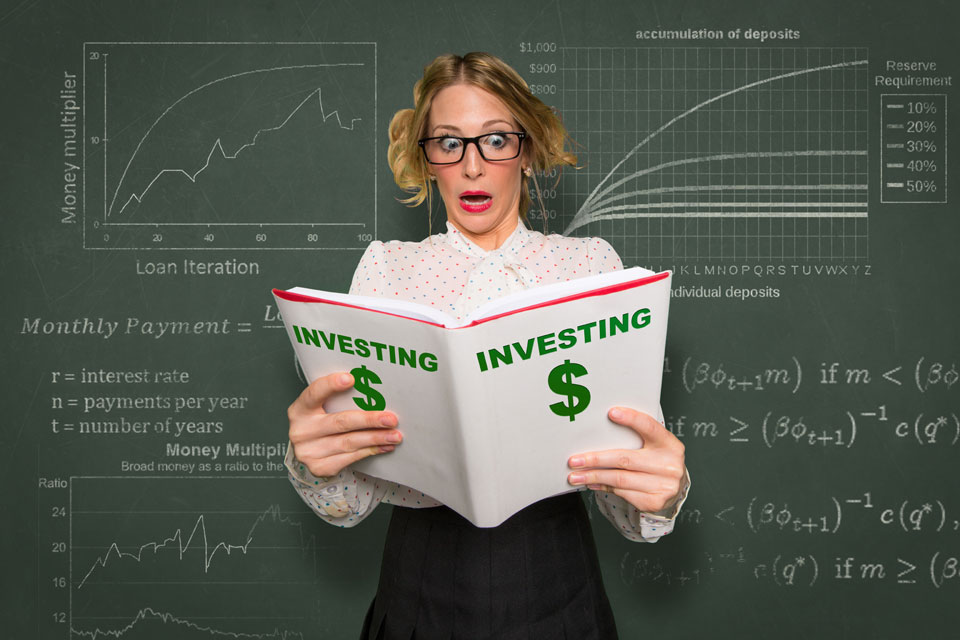 In a recent study, it was found that nearly two-thirds of Americans can't calculate basic interest payments correctly.
A third said they didn't even know how to approach the problem.
In the UK, as I suspect is true in most of the world, we have no idea of what we need to save for the future.
And dramatic examples of this poor understanding can be found in a 2015 (Ipsos Mori) survey which asked, amongst other questions:
'What pension fund would you need – in order to provide a retirement income (including your state pension) of c. £25,000 a year?'
Now, before you look below …
… have a guess at the answer …
… just for fun 🙂
It should only take you a minute.
Here's what people believe:
Over 50% thought the target pension of £25,000 could be delivered with a fund of less than £150,000.
30% thought that a fund of £50,000 would be enough and
Incredibly, 12% (more than 1 in 10 people) thought that a fund of £15,000 would do the job
For goodness sake … £15,000?
… that's less than the targeted annual income!
What's the answer?
Well, you'd need a fund of around £300,000 (or more if you wanted an inflation-linked income) to hit that target of £25,000 p.a.
And here's the really interesting thing.
It doesn't need need to cost the earth to build those sorts of funds … despite what the media tell you every week.
And you can read more about that here
Where to find the truth about money?
The challenge for your staff (or your prospective customers if you're a Financial Adviser) is knowing where to go to find solid and valuable truths about money.
We both know there are very few places offering that … and whilst you'd like to think that folk could just have a chat with a financial adviser, it's really not that easy is it?
The leading fund manager, Schroder's, recently revealed that about half of all UK financial advisers turn away potential clients with less than £50,000 to invest.
That said, many good advisers will give up some time for educational work if asked. You just need to know the right ones to ask.
Many advisers will offer some financial guidance to younger family members of their predominantly older client base, but it's not nearly enough.
So, we have a vast gap in the supply of good, high impact, financial education.
I'm setting aside the Money Advice and Pensions Advisory services here.
They do offer a LOT of very useful information.
But you need a couple of years to study it and it's certainly not high impact.
So, most people ignore it and won't commit the time to study even the basics.
This issue can best be highlighted with one single plea for help – that went viral on LinkedIn. See here
But surely there's an APP for that?
Well, yes, of course, there is, in fact, there's a growing number of them.
And our 'millennials' (those born in the 1980s and '90s) are now turning to these online Apps for money guidance … as nicely outlined by Ioana Bain here, 'Where Millenials turn for financial advice' in the Financial Times (15 March 2019) 
Are these new APPs helping?
Well, you can certainly access a LOT of financial products via these APPs … which is, I assume, how they earn their money?
But is more choice always a good thing?
I mean, if you need some bread and water, does it help to be offered 20 different brands of coffee?
Clearly, there's a RISK of people thinking that because a particular product is listed on a popular APP, it must be something they should consider using.
This is really not helpful, when you look at the overwhelming array of investment options being offered – from 'robot' advisers to cryptocurrency platforms.
What's more, according to that FT article, it's the crypto stuff that's dominating young user's interest.
My thoughts on that Bitcoin silliness right here 
The Bitcoin article needs a refresh, but I updated it 9 times, (as the Bitcoin price crashed) so I'm a bit bored of that now.
Anyway, the key messages in it remain solid.
So…  can you help, and how can I help you with this? 
Well, it's tricky to get your messages to cut through in a world that's flooded with digital nonsense.
And let's be quite honest here … there really is a lot of rubbish written about money every day.
And we all know why.
If you're in business to deliver financial products, (pensions or savings products), to employees in the workplace, you first need to convince employer customers that you're going to add value to their employee's lives; not just take their money and administer it.
So, you probably need to offer high-quality financial education as part of your package … and if that's what you need, I might be able to help.
You know that 'ordinary' Financial Education simply won't cut it … in today's open digital world.
Your Financial Education must be well written  … or not written at all.
Having out of date articles or lessons based on flawed ideas will damage your brand.
Whilst offering safe (plain vanilla) materials will make you look 'boring' compared to what the new kids on the block, like Salary Finance, are offering in this area.

Now, I might be slightly biased – see disclosure – but I do think this is one of the best employee financial education packages out there right now.
Disclosure
I worked with Jason Butler, head of financial education at Salary Finance to create this material but have nothing to gain by sharing this with you. I just want you to see what good looks like in financial education today. 
I wrote a lot of materials – including video lesson scripts and guides – for this educational site. And, as you can see, the customer was very pleased with the work 😊, as were the senior managers of Salary Finance who described some of these materials as 'outstanding' and 'absolutely brilliant'.
Whatever type of business you run, talk to Salary Finance about their innovative, paid-through-salary, financial products.
They're transforming the world of personal finance in the workplace.
OK, so could you build something like that?
Yes, you can but you'll need to invest in it up front and commit to maintaining the materials going forward … which is where some providers and advisers fall down – with often very out of date materials on their sites.
That said, if you're really smart about your financial education project, you'll focus on building 'evergreen' lessons that will change very little over time.
These types of lesson don't change just because we've had another Budget, another move in interest rates, another referendum … or because the Bitcoin price has fallen yet another 10% ! 😉
These lessons are aligned to a solid, long term, financial planning process.
Focus on evergreen and keep your costs down
Of course, if you focus on delivering evergreen lessons, you'll keep your content maintenance costs down to a minimum because these fundamental lessons don't change over time.
Yes, you'll want to add some topical articles into the mix from time to time too.
But the world is crying out for lessons on the basics of financial planning, that will last a lifetime … as the reaction to Niamh's post on LinkedIn proves beyond all doubt … so, make that your focus.
And give me a shout, if you need some help with this.
I'm not cheap – as Jason kindly points about above! – but you really don't want this kind of work done on the cheap.
Here's what you get with cheap: 🙂
You want your materials written right first time
You do not want average 'copy' from a writer that means you have to work all night to write it out again.
I know the challenge that you, or your product managers, face here … because far too often that's what I had to do, as the Investment Product Development Manager at Clerical Medical.
That's just extremely stressful for you and your team – and a complete waste of money.
Questions to ponder
Have a good think about exactly what consumer-facing, financial educational materials you want in your shop window, in the future.
And if you want some help in thinking that through, I can help with that too.
You might already have a good team of website developers and creative designers who know how to make your words look great.
But are you getting the right words, written right, first time?
Can your agency write in a way that is:
Clear and concise … and in plain English?
Powerful and engaging … and focused on the problems you solve?
Proven and technically correct … and fair / not misleading (the FCA rule)
Unique to your business … and doesn't say the same old stuff that everyone else is saying (there's a lot of that going on in the FS industry)
Can they really deliver material that you will describe as 'Outstanding' … to make YOU stand out as 'Brilliant', in your customer's eyes?
If you can answer yes, to all of the above, you really don't need any help from me.
If not, then I might be able to help.
Next steps if you need help
If you'd like some help you can:
Connect via LinkedIn where you'll find more testimonials on my product development and national accounts management work.
E-mail me at hello@paulclaireaux.com
Or simply message me via my contact page 
If I'm available (and I only work on one or two of these projects at any one time) …
… I'd love to have a chat about how I can help you create some brilliant financial education materials.
All the best for now
Paul
If you'd like to follow my work more closely and obtain more ideas around money and personal performance, in an occasional newsletter, sign up here.
And, as a thank you, I'll send you my '5 Steps for planning your Financial Freedom' … and the first chapter of my book, 'Who misleads you about money?'


Or, if you'd like more frequent ideas (and more interaction) … join my facebook group here

Share your thoughts here
You can comment as a guest (just tick that box) or log in with your social media or DISQUS account.