Why financial products are the last thing you need
to map out your financial life plan
The video (above) will tell you why, in a nutshell, financial products are the last thing you need – to plan YOUR financial life.
And here, we'll explore what you need to put first.
Of course, you won't hear this story from anyone whose 'income' depends on selling you 'financial' products 😉
And let me be clear on this point . . .
I'm NOT saying that you won't need some financial products after you've sorted out a plan.
I'm simply saying that you shouldn't buy them from 'this' kind of adviser.
They 'charge' way too much 🙂
So, you need to be careful when selecting an adviser/broker to use – and you need to remember this simple fact.
Financial products are the last thing you need.
You simply won't develop a good financial plan if your thinking focuses on those things.
And the chances are that you'll get very confused
Let me explain what I mean with a real-life story.
My client's name and occupation are changed for reasons of confidentiality.
It started with some 'networking'
A few months ago – I was at one of those 'networking' events.
They're not really my 'thing' if I'm honest but a friend told me I was spending too much time at my desk – and persuaded me to go along.
The 'routine' (in case you're not familiar with it) at Networking events, is to 'rotate' yourself around the room and to 'chat' and 'pitch' yourself to as many people as possible.
You then swap business cards and move on to your next 'prospect' / 'target'
I'm not much good at this game and on this occasion, I totally failed to complete my networking mission. But I did manage to help one person find a better way to plan her own financial life.
And that made her – and me – very happy 😊
Talking to Sam
The first (and only) person I spoke to at this event was a nice young lady called 'Sam' who, as it turned out, was a very enthusiastic young 'freelance' PR consultant and journalist.
And after listening to Sam and hearing her 'pitch', she did what any good 'networker' does and asked me what I did.
So, I told her a bit about my background and qualifications and explained how I was working on a mission which is to:
Educate people about money
Help them make better decisions about it and
Plan it for the long term.
more on me and my mission here
'Oh my goodness', she exclaimed, 'That's brilliant, I knew that I needed to talk to you!'
'Really', I said . . . 'So, why's that?'
'Well, I've been thinking', she wwhispered,'about starting a pension for some time . . . but as a journalist, I know enough about the finance industry to know that there are very few people you can trust for help'
'And that's why I grabbed you to talk to . . . because I saw your book cover there'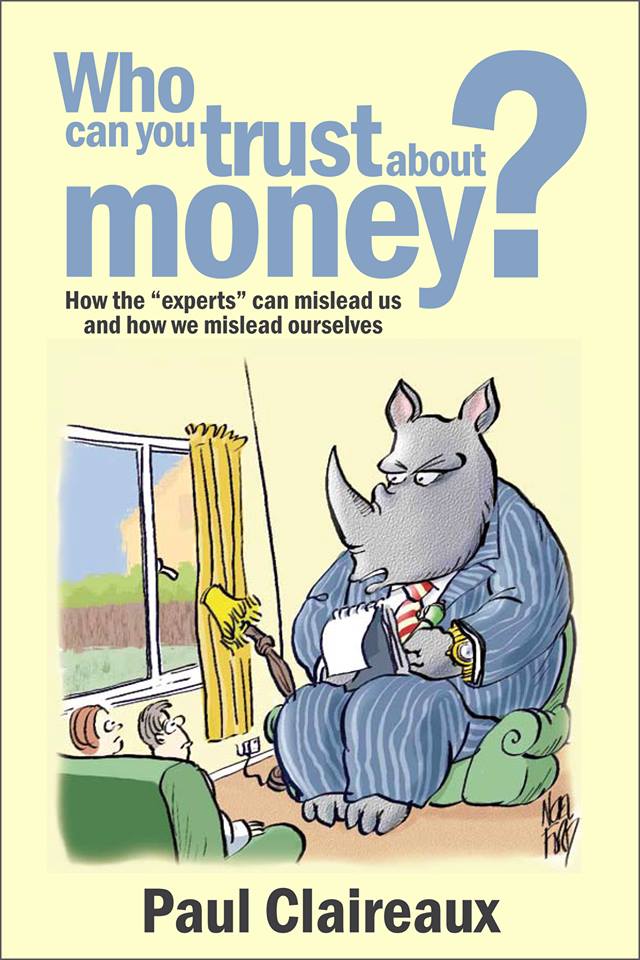 'Yes, well, finding trustworthy, competent and fairly priced financial advice is a challenge the world over', I agreed, 'but there are some good advisers and planners out there. You just need to know how to find one'
'that's as maybe', Sam countered, 'but I've decided to sort this out for myself and meeting you now is just perfect timing.
With your experience and the fact that you're not going to try and sell me any financial products . . . I know that I can trust YOU'
'Good', I said,
'So, what do you need help with?'
'I just need to know whether you know of some good Pension Providers?' Sam asked.
'Yes I do', I responded.
Sam launched into her bag to grab her trusty notebook and pen – and then stared back at me – somewhat open mouthed awaiting my guidance.
I said nothing more and after a few seconds, my silence was clearly making Sam feel uncomfortable
'Well?' she inquired, tilting her head to one side. 'Could you tell me about those pension providers?'
'Oh yes, I could do that', I said. And smiled back at her again 🙂
'Right, great' she said, 'So, if you just give me the names of the best pension companies – I'll sort out the rest'
'Ah,' I said. 'So, you've already worked out that you NEED a pension plan, have you?'
'Well of course', she retorted in a slightly irritated tone.'
'Everyone needs to plan for their later years. I'm a journalist for goodness sake . . . I know that much'
'Right', I said, 'well would you mind me asking you a couple more questions? Because I just want to make sure that we're on the same page here'
'Fire away' replied Sam.
'Okay, I said quietly, 'So you told me earlier that you were renting a flat in East London at the moment. And that you were keen to get your own place at some point right?
'Well, yes of course', Sam groaned, 'but we all know about the ridiculous price of property at the moment. So, I've kinda given up on that and thought It'd be best to focus on getting the pension going'
'But are you still planning to buy a place of your own in the not too distant future . . . and are you saving for the deposit you'll need for that?', I enquired.
'Well kind of' she said, 'but I'm probably not building those funds as quickly as I need to.'
'Okay, but are you using one of those new (Help to buy or Lifetime ISA) Savings plans? You know . . . the ones that give you a 25% FREE bonus from the government?' I asked.
'Not sure what you mean', said Sam. 'Surely a pension is the best long-term savings vehicle I could have – because I'll get a 'boost' from the tax relief on that right?'
'Well, Pensions can be incredibly efficient savings plans – in the right circumstances', I said, 'but if you're a basic rate taxpayer – and you're self-employed – then the boost you get on a pension are quite limited . . .
. . . you're not going to get any nice FREE contributions from your employer – because you don't have one. You are your own employer.
And with regards to that tax relief, it's worth the same (25%) boost as you'd get on these other shorter term savings vehicles for house purchase . . .
. . . what's more, you might have to pay back some of that tax relief when you take the funds out of your pension for income in your later years . . .
. . . and you'll need to wait a very long time before you'll be able to access the money you build up in the pension. So you really need to be sure that you won't need that money for other stuff in the near term'
Sam said nothing
She was quite obviously a bit unsettled by this NEW information.
She turned and stared out of the window for a while – clearly deeply in thought before turning back to me with a big smile on her face.
'Okay', she announced, 'I get it.
You really are very different to a financial adviser – and you really do want to help me understand this stuff and make better decisions, don't you?'
'Exactly' I said.
'And what you're telling me' Sam went on, 'is that I need to think much harder about what I want my savings to achieve before I decide what financial products to save into – and in what proportions?'
'Bingo', I cheered, 'you've got it'
'But what about my pension', Sam asked.
'Well', I said, if you can afford to save for both – I guess that's one option . . . but didn't you tell me earlier that you weren't really sure whether 'freelancing' was for you?
. . . and that you might go back to a full-time job in the relatively near term'?
'Yes, that's right' confirmed Sam. 'You sure do listen carefully'
'Thanks', I said, 'and if you decide to do that, then your employer will be obliged to pay and 'match' some or all of what you save into your pension plan. Indeed, some employers will even pay in more than you do'
'Wow,' Sam marvelled, 'So the cost of saving for my later years could be less than half of what it'd cost me to do this all on my own?'
'Possibly' I noted, 'although it all depends on the scheme you join and how long before you get that job – if that's what you've decided to do'
'Right', Sam added, 'Now this really is helping me to decide whether to press on and find that new job. I was thinking of doing it anyway – because I really need a more steady income – and this will likely spur me on to 'go for it' now . . . '
Sam paused and stared out of the window once more . . .
'This financial life coaching thing you do – is very powerful, isn't it?'
'Yes' I agreed, 'I think it can be very powerful but only if you're disciplined and remember one thing'
'What's that', Sam asked.
'That financial products are the last thing you need' I laughed.
'You really will get stuck at this game – if you start by trying to choose one of those things.
There are thousands of products and funds to choose from and most people who start there – simply get lost . . .
. . . you need a process for planning – and another for choosing products'
'That's very cool' said Sam
'So, what else do I need to learn about if I'm going to draw up a solid financial life plan?'
'Goodness me', I said, almost choking on my coffee. 'Would you like me to give you my whole one-day workshop training right here and now at this networking event?'
'Aren't we supposed to be 'networking' with other people too?'
'Oh yes, of course' said Sam. 'But come on, just tell me, in a nutshell – you're quite good at those. What should I look for, from a financial coach or mentor if I'm going to learn how to draw up my financial life plan?'
'Alright', I said. 'And you might want to jot this down on that notebook of yours'
What to look for – from a financial coach & mentor
'I think you need to look for someone who has the knowledge, experience and qualifications to help you with long term financial planning matters.
'A lot of coaches will avoid discussions around pension planning and investing because these subjects can get complicated once you open them up.'
'But in my view, this is where you'll learn the most valuable ideas. So, that's where I focus my coaching and mentoring help.'
'I think you need someone who can teach you a proven and powerful process to visually connect your money to what matters in your life.
So, that's your important life goals – for yourself and your loved ones'
I then showed Sam this image, from the centre pages of my coaching brochure which, like most people, she found fascinating 🙂
If this is of interest – you can download the full brochure here
And then I continued . . .
'Of course, you'll also need someone who can teach you how to estimate what you need to save for those goals – to give you a better chance of achieving them'
'And who can give you a solid grasp of the knowledge you need to make better decisions about money and investing for the long term.'
'You might also want to think about hiring a coach who can provide ongoing personal, motivational support – to help you on your journey – because this game is rather like the challenge of looking after your long term health – you're not going to fix it all overnight'
'That sounds brilliant', said Sam. 'So, when can we start?'
'Well, I think we just did', I laughed, 'but I guess you can have that first session on the house!'
Okay, so that's the end of the story about Sam but before signing off, let me answer one more question that people sometimes ask about my work.
How do you choose between a financial life coach and financial adviser?
Well, the simple answer is that you don't have to.
If you learn some smarter investment and pension ideas from a good coach – you could easily save hundreds or thousands of pounds over the coming years.
Of course, if you want specific recommendations on investments of any kind (including pension products) you should appoint a regulated financial adviser. And a really good coach will also teach you how to go about finding a more competent (and fairly priced) adviser – if and when you need one.
You can find out more about my coaching services here OR, to explore this further, just drop me a line with any questions you like – from the contact page
It'd be great to hear from you and you never know, this kind of educational coaching, could be one of the best investment you ever make.
All the best for now
And thanks for dropping in …
Paul
For more ideas around money and personal performance, in an occasional newsletter, sign up here.
And, as a thank you, I'll send you my '5 Steps for planning your Financial Freedom' …
… and the first chapter of my book, 'Who misleads you about money?'
Or, if you'd like more frequent ideas (and more interaction) …join my facebook group here

And feel free to share your thoughts in the comments below.
You can comment as a guest (just tick that box) or log in with your social media or DISQUS account.