How to make bad relationships good
And achieve a whole lot more
Wouldn't it be brilliant if we could transform some of our most important, but bad relationships to good ones?
Of course, no one has all the answers to this most difficult life challenge and least of all me, but the ideas in this book offer solid ideas in this area.
The Power of TED (the empowerment dynamic)
To be clear, I'm not suggesting that this book can repair every bad relationship, and sometimes, if it's possible, it's best to move on.
However, the ideas here can help you use difficult life experiences to change your life for the better.
'The power of TED, the empowerment dynamic' is a book by David Emerald – with a simple but powerful idea at its core.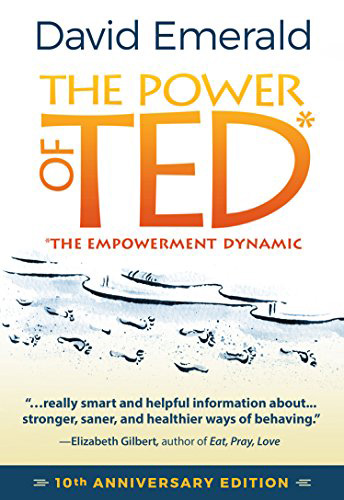 It turns the 'drama triangle' upside down
What's the drama triangle?
Well, it's a model of human behaviour, developed by Dr Stephen Karpman in the 1960s and still used today in what psychotherapists call 'transactional analysis'  (or looking at how we operate with others in our life)
The drama triangle describes the unhappy relationship dynamic between people playing one of three roles (Victim, Rescuer and Persecutor), and how most of us can 'slip' into one or more of those roles at some point in our lives.
We might even operate in different (drama triangle) roles in different groups of people, or with the same group at different times.
The trouble with the 'drama triangle' is that there's no good role to play. They're all a bit destructive and sad which is why this idea (acknowledged by Karpman himself) is so empowering. It shows us how we can transform these 'sad' roles into something useful and energising.
It shows how we can significantly improve our lives by:
1. Casting off our victim orientation to become the creator of our own futures.
2. Converting our persecutors into positive challengers and
3. Saying goodbye to our rescuers to find valuable coaches instead.
Here's how that looks in David Emerald's diagrams.
TED is grounded in solid science but it's an easy read
I'm no expert on relationship challenges, and I'm not a psychiatrist or psychotherapist either. But I know people who are, and they really like this TED model too.
Of course, there's much more to TED than I've outlined here, and the storytelling style of the TED book is wonderful too.
So be sure to grab a copy of it and try out some of the ideas inside.
You can find the TED book and some of my other favourite books right here
You might also like to head over to the 'power or TED' website too – they often run offers over there
Thanks for dropping in
Paul
For more ideas to achieve more in your life and make more of your money, sign up to my newsletter
As a thank you, I'll send you my '5 Steps for planning your Financial Freedom' and the first chapter of my book, 'Who misleads you about money?'
Also, for more frequent ideas – and more interaction – you can join my Facebook group here
Share your comments here
You can comment as a guest (just tick that box) or log in with your social media or DISQUS account.