An unthinkable way to charge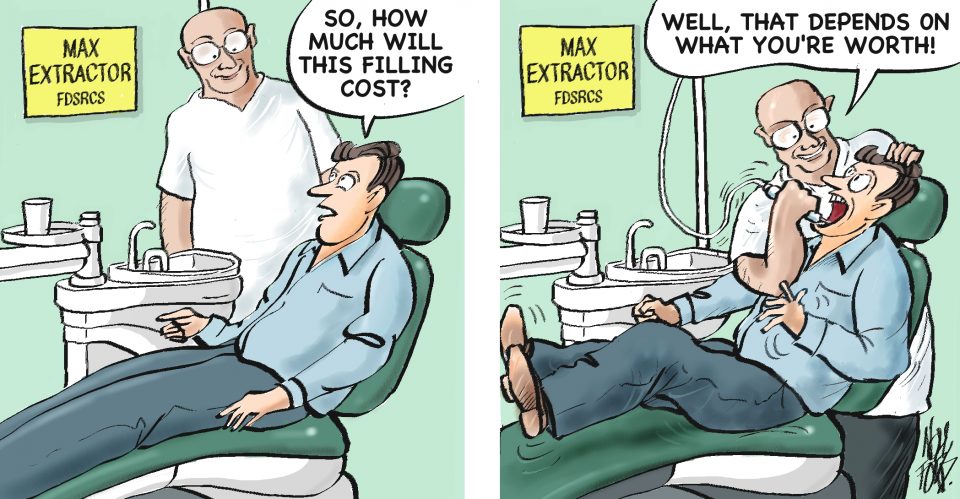 It really is unthinkable isn't it?
What serious professional would charge you – according to your wealth?
What serious professional would charge you - according to your wealth?
Click To Tweet
Your dentist?
Your private surgeon?
Your fitness instructor?
Your accountant or solicitor?
Your hairdresser – I don't know much about these 😉
No, none of them except your wealth manager or financial adviser.
And this is just ONE reason to learn the basics about your money.
You see there are some big problems with 'advice' in the world today.
And too many to cover in one Insight here  – but we will cover them all over time.
Or if you want all the answers now – just grab a copy of my book 'Who misleads you about money?'
However, there is one BIG issue you really must know about now.
Good quality advice at a fair price is difficult to find, anywhere in the world – and the reason is simple.
Most advisers seek to charge fees as a percentage of your funds.
And whilst some advisers will discount their percentage fees on larger funds – many do not.
So they earn ten times as much for advice on a £250,000 portfolio as they do on just £25,000!
Ouch !
And for obvious reasons, this means that a lot of advisers focus on helping wealthier clients.
Okay,  but so what?
Well, this might mean that if you're not (yet) wealthy, you'll struggle to access high quality advice.
So staying tuned to the ideas that are here will be helpful to you.
Indeed, even if you are wealthy (and have your own adviser) the ideas you'll find here might help you work out if the advice you're getting is worth what you're paying for it!
Adviser charges can range from a few hundred to well over ten thousand pounds.
So, you might say that, like our Rhino adviser friend here, some of them like to 'charge a lot' !!
And the fact is that not all advisers give great advice all the time – even when they charge so much.
So it's worth looking for quality advice and making savings where you can, eh?
And just to be clear. There ARE some good quality, fair priced advisers out there.
They're just very difficult to find.
So, we'll explore how to go about that – in a future article.
In the meantime . . . take care out there
Paul
Please share your thoughts in the comments below.
You can log in with your social media or DISQUS account OR
To "post as a guest" – just add your name and that option will pop up.
And click this button – for more Ideas – straight to your inboxI'll also send you the '5 Steps for planning your Financial Freedom' (FREE)